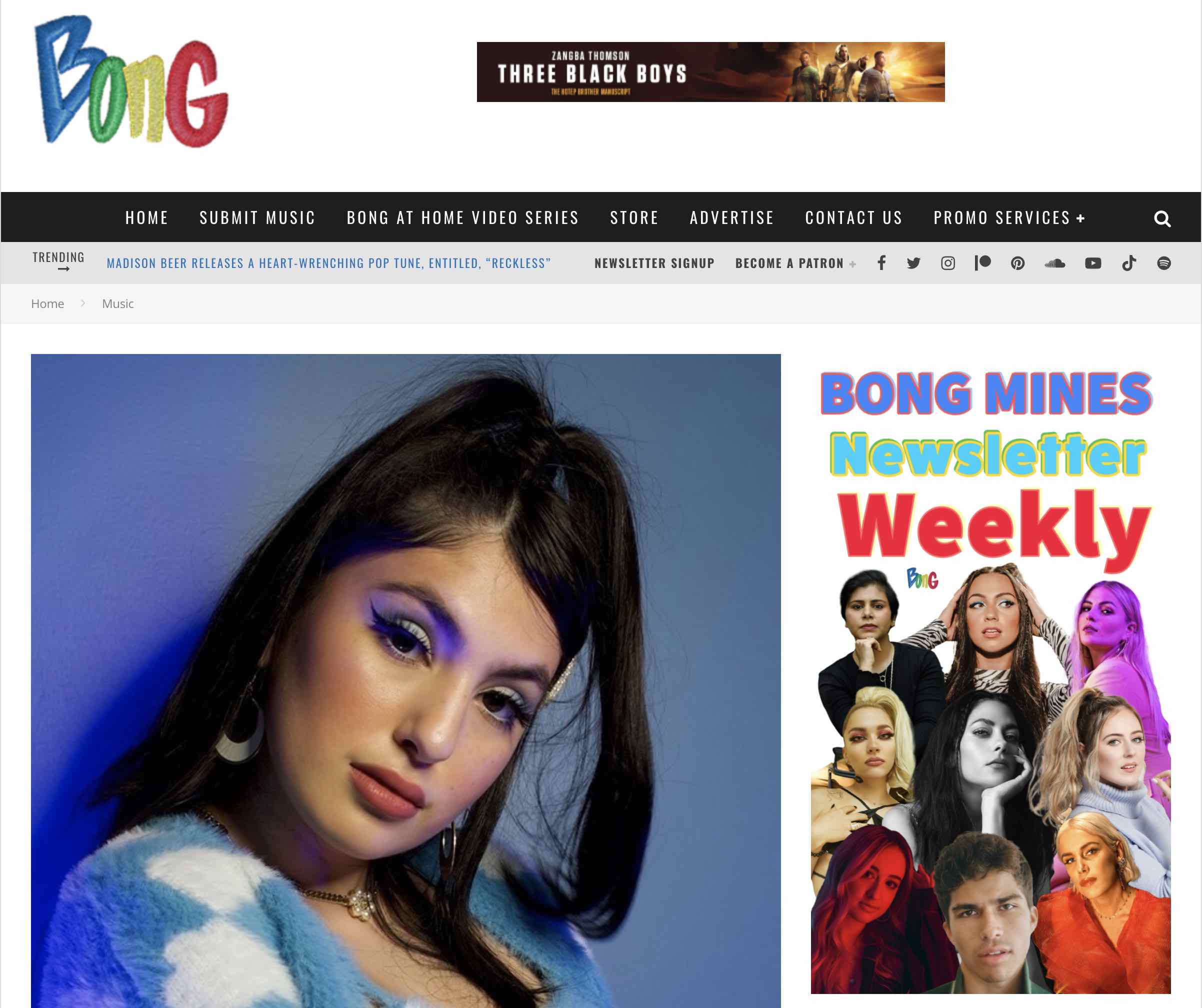 BELARO is a Spanish-American singer-songwriter based in Los Angeles, California. Not too long ago, she released a remarkable breakup banger, entitled, "Grateful."
BELARO – "GRATEFUL" SINGLE
'Grateful' tells an intriguing tale about a grateful young woman. Apparently, she's extremely happy that she is no longer in a toxic relationship with her significant other. Also, she's thankful to be on her own and appreciates the fact that she's single again.
'Grateful' contains a post-relationship-based narrative, ear-pleasing vocalization, and harmony-driven melodies that will resonate well with fans of Ariana Grande, Camila Cabello, and Madison Beer. The mid-tempo tune possesses melodic instrumentation flavored with urban-trap and contemporary pop elements. Also, "Grateful" serves as a wonderful presentation to what listeners can expect to hear from BELARO in the near future.
"I WAS YOUR BIGGEST FAN. YOU PUSHED ME TO THE SIDE."
"I wrote this song over a year ago now. Also, it was the last session I did before the literal apocalypse happened." – BELARO explained
BELARO is never afraid to take risks and to be different. She takes the edgiest side of pop music and makes it hers. Also, she's a fresh blend of today's top musical talents and '70s disco legends like Donna Summer. In 2019, BELARO released her debut single, entitled, FGIRL. The song made a fiery reference to female empowerment with an unapologetic edge. Also, BELARO's straightforward message of never being afraid to call it as it is caught the attention of listeners worldwide. In 2020, she released her second single, entitled, "Forever."
"FOREVER" MUSIC VIDEO
'Forever' contains a relatable message about breaking up from toxic relationships. Also, the song landed on coveted Spotify editorial playlists like just hits and Fresh Finds: Pop. Later, BELARO released a music video for her follow-up single, entitled, "Scarlet."
"SCARLET" MUSIC VIDEO
https://youtube.com/watch?v=cZK1hib6rzA%3Fenablejsapi%3D1%26origin%3Dhttps%3A
'Scarlet' was co-produced by Olivier Bassil (NBA YoungBoy, Tory Lanez, Rod Wave). The crossover pop anthem contains Disco, Country, and Top 40 Pop elements. Also, the song is a tribute to Dolly Parton's classic "Jolene" single because it shares a similar concept about a woman who is trying to steal someone else's man.
A stellar team shot the music video in the iconic LA River. Also, the video stars BELARO and talented model/actress, Paige Rose Martin, as Scarlet.
"GRATEFUL" SINGLE
'Grateful' is BELARO's 4th single. The song was co-written with Oscar-winning songwriter, Vanessa Campagna. Also, it was produced by the hip-hop production team behind Kevin Gates's latest single, Puerto Rico Luv (MakeTheNoises and Olivier Bassil).
We recommend adding BELARO's "Grateful" single to your favorite urban-pop playlist. Also, let us know how you feel in the comment section below. Mel Blanc's famous catchphrase, "That's All Folks!" Thanks for reading another great article on Bong Mines Entertainment. And always remember that (P) Positive, (E) Energy, (A) Always, (C) Creates, (E) Elevation (P.E.A.C.E).
---
Contact us on social media via Twitter, YouTube, Instagram, or Facebook, and let us know what's going on. Also, check out our At Home video series, which highlights tomorrow's most promising stars. Expect to hear popular genres such as hip-hop, R&B, Pop, Rock, and alternative music. Furthermore, if you appreciate what we do, then show some love via Cash App or PayPal, subscribe to our weekly newsletter, purchase our merchandise, or become a Patron of Bong Mines Entertainment, "the hot spot for new music."